Imagining future robots by understanding the latest science research tech
Tomomi joined workshop experience design, tool design and facilitation of RE : THINKING THE ROBOT creative workshop at Royal College of Art + Institute of Industrial Science(IIS) at the University of Tokyo, Design Lab Tokyo.
This design-thinking workshop invites participants to think about what is the new technologies promise a societal shift where robots will become part of our daily lives.
Be inspired by cutting-edge research from the University of Tokyo, including biomimetic machine mechanics, "BioLikeness" of robots, fundamental vision theories and breakthroughs in high speed robotics.
Experience design-thinking methods and processes for ideation and rough prototyping. Rethink the robot: its function, appearance, interaction, and role in society. Imagine the unimaginable.
This workshop has been deployed at University of Tokyo New York Office after the successes at Tokyo.
左右田は出身校である英国王立美術大学院と、東京大学生産技術研究所の共同デザインラボ東京で行われた、RE : THINKING THE ROBOT(ロボットを考え直す)ワークショップデザインとそこで使用するツールのデザイン、ファシリテーションに携わりました。
このデザインシンキングのワークショップは、ロボットがこれから将来日常的な生活の中に入り込んでいくと、テクノロジーの発展が社会的変容をもたらすかを参加者が考えるワークショップです。
バイオミテックスの技術、バイオライクネスのロボット、基礎視覚理論や大きな進歩を遂げた高速ロボット東京大学の最先端の研究にインスパイアされています。
エクスペリエンスデザイン理論やアイデア創生プロセス、ラフなプロトタイププロセス等を織り込んで、もう一度ロボットというものを見直し、考え直します。
ロボットの機能とは何か、そのアピアランス、インタラクションそしてその社会的な役割を通じて、今まで想像したことのないロボットを創造する事が目的です。
このワークショップは東京での成功に続き、東京大学のニューヨークのオフィスにても行われました。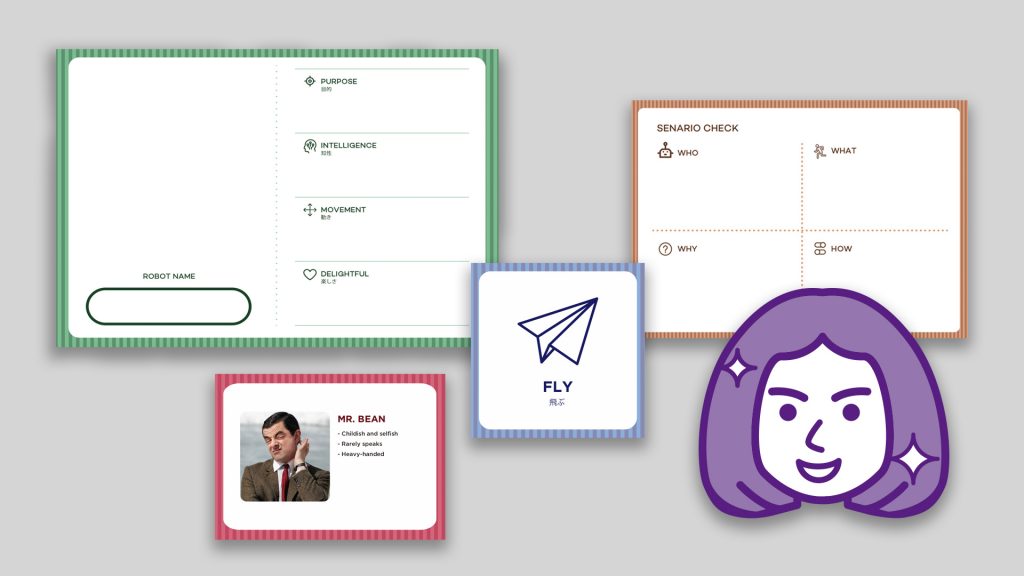 Credit
Professor & Workshop Director
Miles Pennington
Workshop Designer & Facilitator
Christian Felsner
Tomomi Sayuda
Workshop tool design
Tomomi Sayuda
Institute
RCA x IIS Design Lab Tokyo ( Design Lab of Royal College of Art + Institute of Industrial Science, The University of Tokyo) 英国王立美術大学院+ 東京大学生産技術研究所 デザインラボ東京